Bowie Dentist - Bowie Dental Office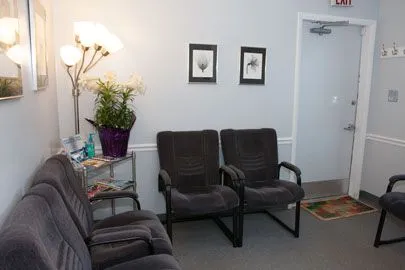 This page provides you with practical information about our practice. It includes descriptions of our office location, including a map and directions, hours, appointment scheduling, insurance acceptance and billing policies.
Pointer Ridge Dental Care
1522 Pointer Ridge Dr. Suite E.
Bowie, MD 20716
(301) 249-1102
Office Hours

| | |
| --- | --- |
| Monday: | 8:00 AM - 5:00 PM |
| Tuesday: | 8:00 AM - 2:00 PM |
| Wednesday: | 9:00 AM - 6:00 PM |
| Thursday: | 8:00 AM - 5:00 PM |
| Friday: | 8:00 AM - 2:00 PM |
| Saturday: | 8:00 AM - 1:00 PM By appointment only |
| Sunday: | Closed |
Click here for door to door driving directions

Appointments
Thank you for choosing our practice to care for you. We live in a changing world, and as a practice we are changing for the best. One constant is that we will never waiver our commitment to you in providing the best clinical care and the most current dental services.
We are dedicated to helping you keep your smile healthy and beautiful for a lifetime. We will explain all dental procedures and associated fees clearly and professionally before we begin treatment. We gladly devote the time and attention necessary in offering you financial counseling when discussing fees and methods of payment, because you deserve it.
Insurance and Billing
We are happy to process your insurance claims. Please keep in mind that any estimate that we provide to you is only an estimate and that you are responsible for all fees in their entirety. Dental insurance companies do not necessarily cover 100% of all dental fees. In many cases they cover less than 50% or they do not provide coverage at all. The "small print" written in the dental plans reveal the truth about actual percentages, which can be less than expected.
Your insurance plan is based upon a contract between your employer and the insurance company. Any dollar amount a plan reimburses for dental services is determined by how much your employer has paid for the plan.
Dental insurance is not designed to pay for your complete dental care. Many routine and newer services are often not covered. You are fortunate to have dental insurance that may assist you with the cost of treatment. Our goal is to help you achieve and maintain optimal dental care. If you have any questions regarding the specifics of your dental insurance plan, please contact your employer or insurance company directly.
Payment Options
We accept checks, cash or credit cards. We also offer a flexible payment plan. Please see our Financial Coordinator for details. We are happy to file insurance for your reimbursement as long as you are free to choose your own dentist.

Financing Options


CareCredit is here to help you pay for treatments and procedures your insurance doesn't cover. We offer No Interest* financing or low minimum monthly payment options so you can get what you want, when you want it. You can even use CareCredit for your family and favorite pet.

With three simple steps, including an instant approval process, it's easy to apply for CareCredit. After you're approved, you're free to use CareCredit for the services you choose including LASIK, veterinary, dentistry, cosmetic, hearing aids and more.

CareCredit is endorsed by some of the most credible organizations specific to each healthcare profession we support. And CareCredit is a GE Money Company, so you know you can count on us. For over 20 years, we've been helping over five million cardholders get the healthcare treatments they want and need. Now you don't have to worry about saving up for the procedures you want and need. With CareCredit, the decision's in your hands to get what you want, when you want it. For more information or to apply online, visit carecredit.com